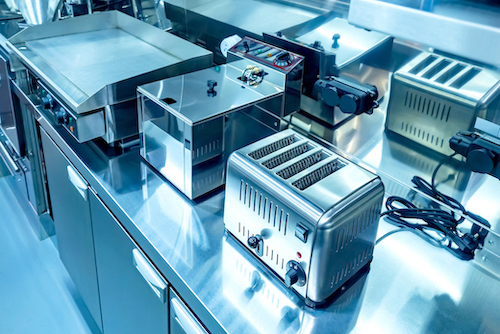 SLIM solutions for the HoReCa sector
The HoReCa world is closely linked to "food & beverage", one of the leading sectors for Made in Italy, given the importance our country assigns to food and conviviality. In recent months the industry has been looking ahead to new machinery and equipment for food processing.
At SLIM, we work alongside manufacturers in the industry with a standard and customised light signalling offer. What are our solutions for the HoReCa sector? Find out in this article.

More specifically, we will talk about::

Do you want to keep up to date with the latest news about SLIM and the HoReCa sector, and much more? Click on the button below and subscribe to our newsletter to receive the latest updates.
The HoReCa sector: what is it all about?
HoReCa is the term that combines three different sales channels: Hôtellerie, Restaurant and Café or Catering. This acronym of French origin refers to all those productive and entrepreneurial realities linked to the world of catering, hospitality and reception. In particular, the sector includes all those structures where food is consumed, such as bars, bistros and restaurants, and companies that supply machinery and equipment for the production of food & beverage.
In Italy, there are around half a million companies in this sector, with a turnover of more than 50 billion Euro per year. This is one of the fastest-growing industries in Italy, and we are part of it for the supply of standard light signalling for food service equipment and the creation of customised lighting products.
Would you like to learn more about the trends in future applications for the HoReCa sector? Click on the button below and download the free infographics.
Design as a protagonist in the HoReCa sector
The HoReCa sector is a constantly evolving international industry, especially following the changes caused by the Covid-19 pandemic. This last year in particular has seen the emergence of new design languages for Hotels, restaurants, bars and cafés. Design is one of the main trends in the sector along with digital innovation.
This places a demand on planners, designers and engineers for up-to-date, innovative and flexible skills to cope with these changes and bring forward cutting-edge proposals.
Designing equipment for consumption outside the home and in the hospitality world is challenging, but the leading manufacturers of Made in Italy products were able to bring high-quality devices with accurate design to Host2021.
An example of this is GiCO, an Italian manufacturer of large-scale equipment for professional kitchens, which presented its new modular H+ line, a kitchen with various types of versatile, technological and minimalist design equipment, in which even the smallest component is carefully selected.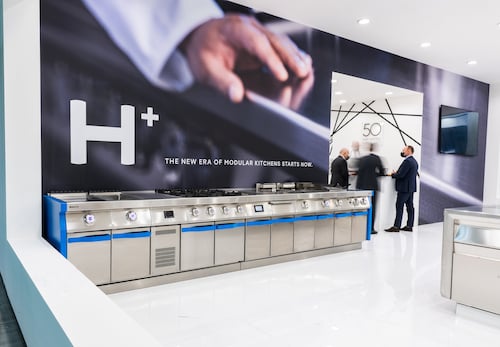 SLIM products for the HoReCa sector
GICO's professional catering systems include one of our latest products released for the HoReCa sector: vandal-proof light indicators. These are high-performance light indicators that are resistant to shocks and the stress of chemical agents, detergents and cleaning agents used to clean hobs. Our proposal consists of two models of indicators with cable or faston connection and with a polished chrome-plated brass ring nut for optimum component aesthetics. In addition, the IP65 protection rating and the metal body mean that this indicator can be installed in all food equipment that comes into contact with liquids and steam, for example, dishwashers, coffee machines, dispensing devices and refrigeration systems.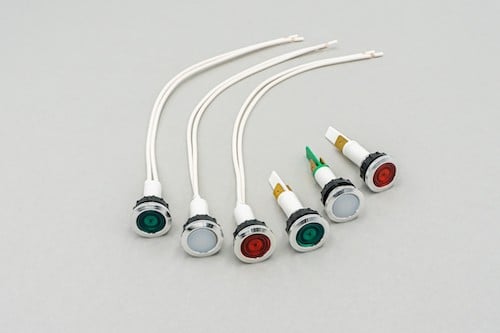 Besides basic signalling units and light indicators for panels, another SLIM lighting solution used in the HoReCa sector is the micro-LED spotlight: lighting systems characterised by their small size and high degree of brightness. This is not a simple signalling device, but acts as a functional illumination of a specific area of the device, giving visibility to the point of light even when the room is lit. This solution was developed following a request from the coffee machine market. Developments in research and improvements have made it possible to install this micro spotlight in any beverage dispensing device.


SLIM solutions for professional coffee machines
As mentioned above, one of the most innovative solutions for lighting professional coffee machines are the micro-LED spotlights. Available in 3 different models for different sized housings depending on whether the device is for professional use or, in a more compact size, for semi-professional use for the home market.
Leaving aside the functional aspect, light as an element of personalisation serves to create a distinctive piece of equipment that stands out and is noticed both in a coffee shop and in one's own home corner of a Home bar. Lighting components can be used in espresso machines to enhance the features of these technological devices.
At Host2021, companies in the sector demonstrated a genuine restyling of professional coffee machines, including new materials, a wide range of attractive colours and above all sophisticated lighting installations. In this context, SLIM's lighting proposal falls on side-emitting light optic fibre. The light guide is an innovative solution that can be installed on the side panels of the body as a homogeneous light profile and on the cup warming shelves thanks to the absence of heating and its total impermeability.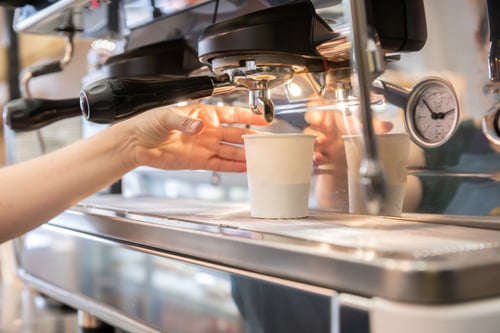 At the HoReCa event, solutions focusing on hygiene and safety, in line with new consumer requirements, were also on show. This need arose from the emergency situation that led to the creation of a device for sanitising the water tank of coffee machines with UV-C LED light. We are talking about the collaboration with Quick Mill that has given rise to the steriliser kit for the company's range of espresso machines. An innovative system that starts water sterilisation cycles by means of a LED UV-C light button.
Would you like to learn more about innovative lighting solutions for coffee machines? Click on the button below and download the free document on coffee machines: a series of proposals for a design device with high functionality.
SLIM's customised solutions: an answer to every need
At SLIM, we design, engineer and implement customised solutions for a variety of applications. The HoReCa sector is one of the major application sectors in which we develop custom solutions and creatively test ourselves to provide an answer to aesthetic and design requirements.
Designing a custom product can be a challenge, but also a great satisfaction because it allows unique solutions to be created. This was the case with ILVE and the Panoramagic line, which saw the creation of an innovative proposal for backlighting the knobs on the ovens and hobs of the professional domestic kitchen line. The proactive collaboration focused on the best final aesthetic result, earned the Panoramagic product line the Archiproducts Design Awards 2021. It was a real satisfaction to have contributed to this project!
For more information on the development of customised projects click the button below and submit your request to the R&D department, one of our experts will be happy to help you.