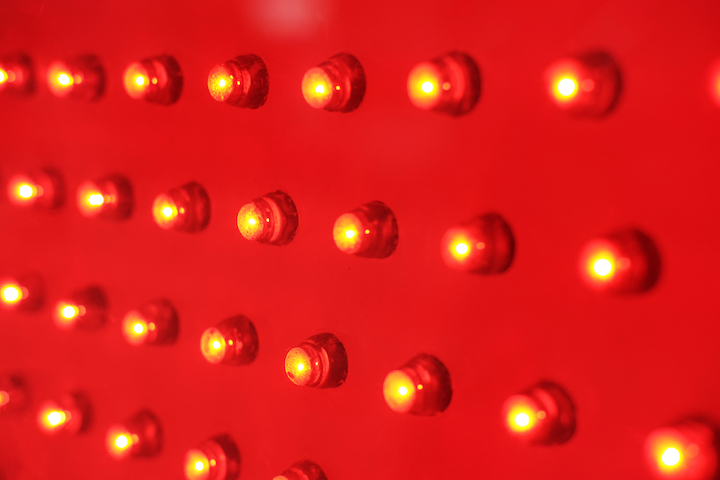 Indicator lights: all you need to know
Home appliances that we use each and every day are made up of an incredible number of components. Each of these parts is fundamental and is itself made up of a series of small devices assembled to perform a certain function.
These components also include indicator lights. Devices designed for a wide variety of application needs, beacons or indicator lights are optimal for reliable indication of the operating status of a device.

This overview regarding indicator lights will cover the following topics:

Want to discover SLIM's lighting solutions? Click on the button below and download our product catalogue free of charge, with all details of the company's product range. Find the one that best suits your needs!
The characteristics of indicator lights
Indicator lights are used to make the operating status (on, off, fault) of the device on which they are installed visible from the outside by means of a small light. The colour of the light emitted will therefore be associated with a precise status of the application, making it instantly understandable and easy to use for the end user.
Each indicator light is made up of four fundamental parts. Starting from the front, where the lens or diffuser is located. This component is made of plastic (normally polycarbonate, polysulfone or nylon) which allows light to be diffused. The resulting lighting effect can be a spot light, a simple signal or have a lighting function depending on the final application.
The next part is the light source. This is the heart of the indicator, and is usually made up of a light source: lamp or LED. The plastic support, on the other hand, is the body of the indicator itself, also made of plastic. The choice of polymer is made taking into consideration the technical performance required, including resistance to different temperature ranges: polycarbonate up to 120°, polysulfone up to 150°. The body may also be made of metal depending on the degree of resistance required for the types of wear.
Last but not least, the actual point of contact between the indicator and the final application is called connection. Connection may take place by means of PVC, silicone or silicone-glass electrical cables, or via a quick-connect metal terminal.
Each indicator differs as per a precise configuration and intended use.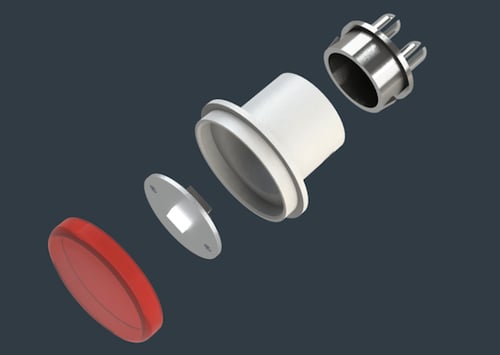 Indicator lights: differences
As discussed in-depth in the article: How many types of indicators are there?, what mainly differentiates indicators from each other is the type of light source. The choice can be between: LED, incandescent lamp, also known as a filament lamp, or discharge lamp, also known as a neon or fluo lamp.

A LED source consists of a two-junction chip coated with an epoxy resin. The two junctions allow the passage of electrons, which, in turn, enables light to be generated. LED is a highly efficient and energy-saving solution.
An incandescent lamp source, on the other hand, consists of a glass bulb containing a filament, which, when heated by the effect of the passage of current, becomes incandescent, generating warm white light. A vacuum is applied inside the bulb or a gas is inserted.
Discharge lamps also consist of a glass bulb. They contain two electrodes, which become incandescent when heated by the passage of current, generating a red-orange light. Neon gas is inserted inside the bulb, hence the name 'neon lamp'. The inner surface of the glass bulb can be coated with a thin layer of a chemical substance, such as fluorine, in order to change the colour of the emitted light, which would otherwise have a red-orange hue as indicated above. Green fluorine lamps are therefore neon lamps with a coating of fluorine powder on the inside of the bulb.
The choice of source depends closely on the final application on which the indicator will be fitted. Which applications use indicator lights?
Let's take a look.

Indicator lights: applications
Indicator lights are used in diverse sectors. An important area of use for these components is that of household appliances, with subcategories relating to food processing equipment, washing, cooking, and small household appliances in general. They are also used in the HO.RE.CA. sector, especially for professional coffee machines, which has been undergoing particular market momentum in this period. Some of our most important customers come from this category: La Cimbali, Gruppo Rancilio e La Pavoni.

Indicator lights are also used in the HVAC sector, in lighting technology, in the medical machinery sector, in spare parts, in switchgear and wiring systems, and in the automotive sector.
Each sector of application differs according to specific requirements: for the HO.RE.CA. sector, for example, in addition to functionality and safety, an aesthetic and design component is required to distinguish the signalling. For the HVAC sector, on the other hand, more attention is focussed on technical characteristics. Indicator lights must, in any case, guarantee certain performances in terms of light intensity, resistance to temperatures (both hot and cold) and an adequate degree of resistance to shocks or aggressive agents. For applications subject to particularly challenging operating conditions, there is a special indicator light called vandal-proof indicator, which has a metal body and an o-ring, providing high resistance to chemical and mechanical stress.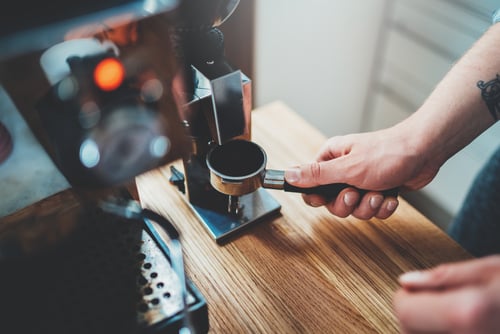 Indicator lights and warning lights: what is the difference?
The difference between indicator lights and warning lights is very subtle. These terms are sometimes used to refer to the

same type of device

, i.e. components that indicate the correct functioning or failure of machinery and applications.
Warning lights are usually more associated with an

emergency signal

. These are either flashing or static emergency lights. In the first case, the source is a red flashing LED; in the second case, the source contained within the indicator must be of high intensity to allow the operator to see the emergency indication even at considerable distance from the control panel.
SLIM indicator lights product range
SLIM has, since 1973, been developing its product range from the production of individual micro-lamps to complete indicator lights. The company's product range includes basic signalling units and panel warning lights with different diameters, suitable for a wide range of applications.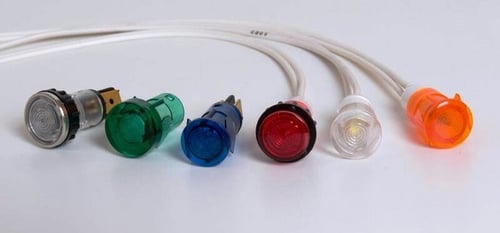 The LED series also includes a range of specific models of warning lights with LED source, which provide high-efficiency light signalling and high visibility, also in brightly lit environments.
Customised warning light solutions are now also available: SLIM responds to market demands with innovative light signalling solutions that are based on the use of printed circuit boards or fibre optics, also providing distinctive aesthetic features to the target applications.

Are you looking for a specific type of indicator lights? Click on the button below and get in touch with us! Our team of experts is available to supply all the information you need.