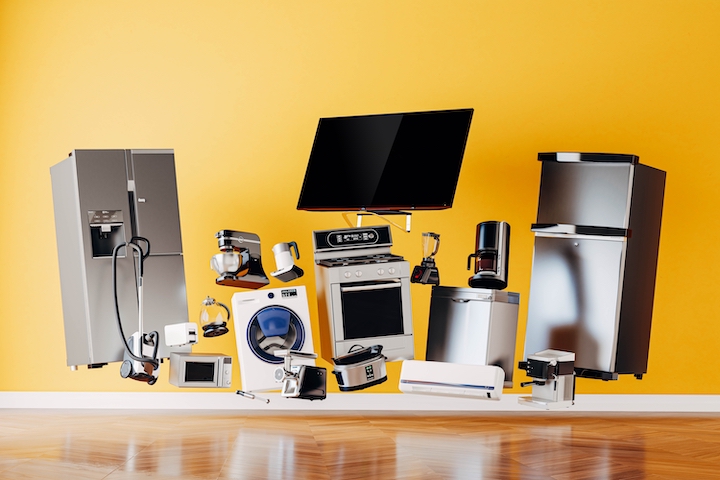 Household appliance market trends
The Italian household appliance industry is a major player in the European market in terms of innovation and manufacturing design. There are many companies in Italy that design and offer a wide range of household appliances that stand out for their high Made in Italy quality. Despite the negative consequences of the Covid-19 pandemic crisis, in 2021, the sector seems to have fully recovered and is looking to the future with new ideas.
In this article, we shed light on the home appliance market trend and the trends that are driving the sector.

If you would like to keep up to date with the latest news on SLIM application areas and light signalling products, click on the button below and subscribe to our newsletter!
The household appliances market in Italy
The market for large and small household appliances recorded sustained growth in 2021, accompanied by a boom in domestic production and consumer demand. According to APPLiA Italy, at its annual conference in cooperation with Gfk in which the figures for 2021 were shared, the household appliance industry had a good year.
Looking at the individual segments, large household appliances closed 2021 with an increase in sales of +18.8% in value and +14.4% in units. Growth was recorded specifically for the washing sector, +13.7% in value and +9.7% in volume over 2020, driven by sales of built-in dryers and dishwashers. This was followed by the refrigeration sector with +12.3% in value, +4.9% in volume and, finally, cooking with +35.6% in value, +29.6% in volume.
Innovative, high-end products were very successful, specifically flex zone induction hobs (+97%) - hobs with flexible cooking zones that allow pots and pans to be positioned freely and use the entire surface for cooking without constraints - and extractor hobs (+148%).
As far as small household appliances are concerned, there was a value growth of +5.5 % compared to 2020.
These positive figures are one of the consequences of the forced lockdown period, which has had an impact on consumer habits, triggering new needs. Spending more time inside one's home has generated a desire to buy quality products for superior comfort. The small kitchen appliances segment drove growth with +3.4% in volume and +10.6% in value. Among the most popular appliances are coffee machines, from automatic to semi-professional, and fryers, especially air fryers.
The household appliance industry confirms itself as a manufacturing excellence in the country, appreciated throughout Europe and beyond. Despite the logistical, cost and raw material procurement difficulties faced since 2020, the sector seems to be progressing, offering consumers innovative devices in line with new needs.
The market and trends
Improved user performance, energy efficiency and durability: these are the qualities sought after in a household appliance. Today, companies of large and small household appliances offer a variety of solutions that are increasingly cutting-edge and durable. Brands have realised that investing in research into new appliances with advanced, technological and intelligent functions is the best way to provide a proposal in line with the new market demand.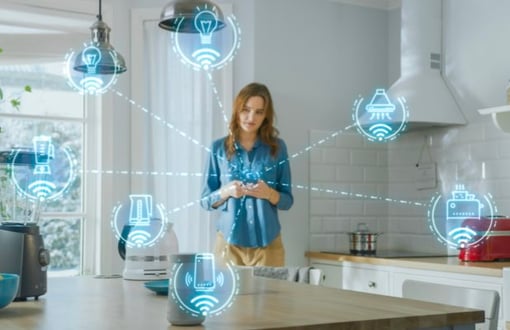 The home appliance industry is becoming increasingly smart and intelligent. This is also confirmed by the Smart Home research carried out by the Internet of Things Observatory of the School of Management of the Politecnico di Milano: the smart home appliance category leads the Smart Home market with 135 million euros and a growth rate of +35%. Over the past year, the range of smart devices has been expanded with new proposals for small smart appliances, including robot hoovers and air purifiers. Smart appliances are positively received by consumers as they save time on household chores and limit consumption.
With the pervasiveness of the Internet of Things in all sectors, the expectation is that the use of these technologies will expand to more appliances, including lower-cost ones, in order to facilitate consumer ease of use and intelligence. Regardless of the type of appliance, in fact, these appliances may be more complex in terms of structure, technology and functionality. The integration of the IoT and the management of functionality via application or touch screen display, on the other hand, is a facilitator in the use of appliances.
In addition to these aspects of connectivity and technological innovation, another trend in household appliances is sustainability.
In 2021, with the introduction of the new energy label, the focus is on a fundamental aspect of household appliances: their energy consumption. This change highlights the need for increasingly efficient and environmentally friendly products that can reduce household consumption.

To stay up-to-date on trends in the Home Appliance sector, click below and subscribe to the newsletter: a monthly appointment with news from the different application sectors covered by SLIM.