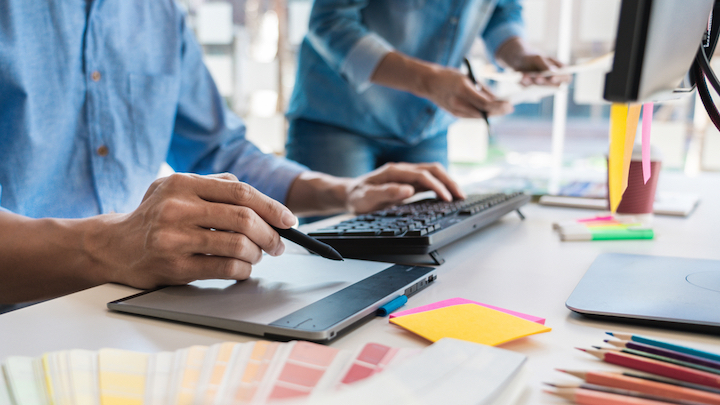 Developments in the lighting sector: here's what Emo Design has to say
A few days ago, we interviewed Carlo Ciciliot, founding partner of the industrial design studio Emo Design, to explore some of the many aspects of the lighting sector from the point of view of an industrial design expert. We discussed the centrality of the theme of light in design projects, ranging from lighting technology to household appliances.
More specifically, in this article we will focus on:
If you would like to keep up to date with the latest news on SLIM application areas and light signalling products, click on the button below and subscribe to our newsletter!
Emo Design: an overview of the industrial design studio
Good morning Carlo, before starting our interview, can you tell us about your role in Emo Design and give us some details about your company?
I founded Emo Design in 2008 together with my partner Lukasz Bertoli and now I am the Business Manager of the company. Our company deals with Industrial and Interaction design, that is, product design and interaction design through user experience projects.
We work with two main types of customer, which each time stimulate us to tackle very different projects, and for this reason, they are both challenging and appealing. On the one hand, medium to large Italian companies with whom we establish a direct, authentic and transparent approach, a bit like what happened with ILVE for the Panoramagic line. On the other hand, there are large industrial groups where we act as a cog in a larger mechanism, working side by side with the company's design managers.

In which area does your international design studio operate?
The studio is multi-disciplinary and multi-sectoral, ranging from personal accessories, household appliances and lamps to machinery & transportation. Diversity has always been a distinctive concept for our studio, both in terms of projects and types of customers, which differ in terms of size, organisational culture and geography: we operate in countries that are very different from each other. Diversity also characterises us internally: we have an international team of designers and professionals, distinguished by their know-how and training (product, user experience and transportation designer).
Based on your studio's experience, what are the changes in the lighting sector in recent years?
We were introduced to the lighting sector and the world of lighting by some of our customers. We started to develop projects involving the integration of light mainly for two customers specialising in urban and public lighting. We intervened, on the one hand, by cleaning up the lines of street lamps and, on the other, by trying to enhance the classic nature of their forms. During these collaborations, LED is the major transformation we have seen on the urban lighting side, but it also goes hand in hand with residential and appliance lighting. The LED light component has opened up so many design opportunities and has certainly become strategic in the lighting projects we have been involved in.
What do you think are the current trends in the sector?
One of the current trends is the simplicity of the products: clean, minimal lines that integrate the light perfectly. It is less visible, less decorative and more integrated into the architecture of the product. Another important aspect is the quality of the light, which should not be too strong or too dim.
Design and lighting: what innovative aspects are to be expected in the future?
What we are witnessing is an increasingly dynamic use of the lighting component: light becomes an element of personality and brand expression because of the way it is worked and integrated into the design project. This is very noticeable, for example, in the automotive sector, where vehicle interiors are being redesigned thanks to lights, which somehow express both a safety and a comfort function. No doubt these changes will also increasingly take place in homes and offices.

Emo Design projects
What is behind the realisation of a design project?
Our creations are based on an established design methodology. For a product that has to be designed from scratch, we usually start with an initial phase of analysis and research into the market in which the company operates, into products that already exist, into technologies and materials, to understand how to position ourselves. We then move on to a creative phase and the next phase of selecting the most appropriate solutions, which will be modelled.
Behind our designs there is always a deep sense, it is not just about aesthetics, we try to offer our customers objects that meet their needs and functionality.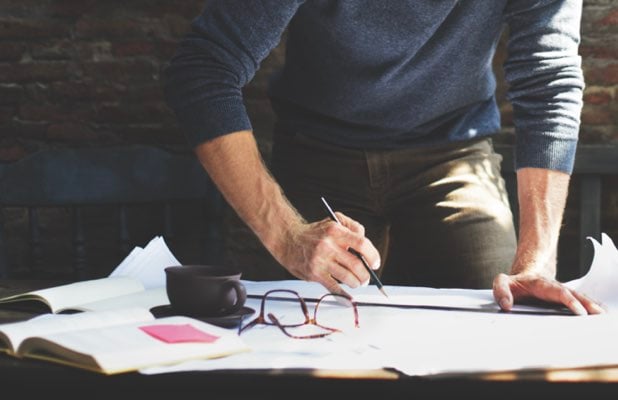 What do you think the role of light is in a design project?
First of all, light is still one of the most important things in our world, for us, it is a source of great inspiration and opportunity, but it has to match the final concept. Light has a double role in a design project: it can be an accessory, or it can also be a fundamental driver for the development of the work. It depends on the nature and type of product you are going to design. For example, in the case of ILVE, the luminous element was an ingredient that we decided to add to complete a whole series of ideas, on which that specific product was structured.
One of your projects involved collaboration with SLIM: we are talking about ILVE's Panoramagic line of professional domestic kitchens. Can you tell us about the realisation of a successful project in the HoReCa sector?
Emo Design was called in for a project to relaunch the company: they wanted a product that looked back to the past and to the professional and domestic essence of ILVE, but at the same time expressed a relaunch of the brand. For the new Panoramagic line of freestanding appliances, we worked on a series of symbolic signal elements. The ergonomics of the sloping oven dashboard are a reference to the world of professional kitchens; the hexagonal cast iron grilles of the hob recall the company logo. Finally, the type of knob for turning on the burners, fitted with a backlighting system, is contemporary.
To complete this idea of looking forward and technology, the backlighting of the knobs was introduced in collaboration with SLIM, a strong desire to give a final touch of hi-tech. We are talking about classic lighting in terms of features and functionality, but which is extremely modern. The backlight on the knobs with RGB serves to indicate that the hob is on and in operation, while the light on the entire monoblock can also be used as ambient lighting.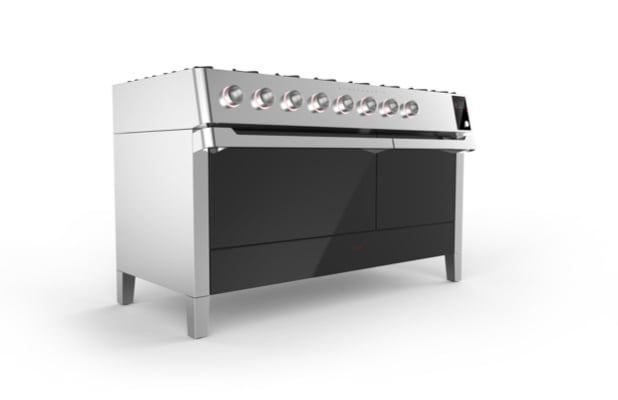 What do you think is the added value of the backlighting provided by SLIM?
We wanted to work with a supplier who could provide quality backlighting: without spotlights, with appropriate intensity and continuous over the entire perimeter. The solution we were provided with fully met our requirements. I, therefore, think that the added value, in this case, can be defined in the respect of the design characteristics of both SLIM and us as designers.
We would like to thank Carlo Ciciliot for his valuable contribution.
If you would like to learn more about the partnerships that have resulted in customised lighting solutions, click on the button below and download the SLIM success stories document.